Republic Day Celebration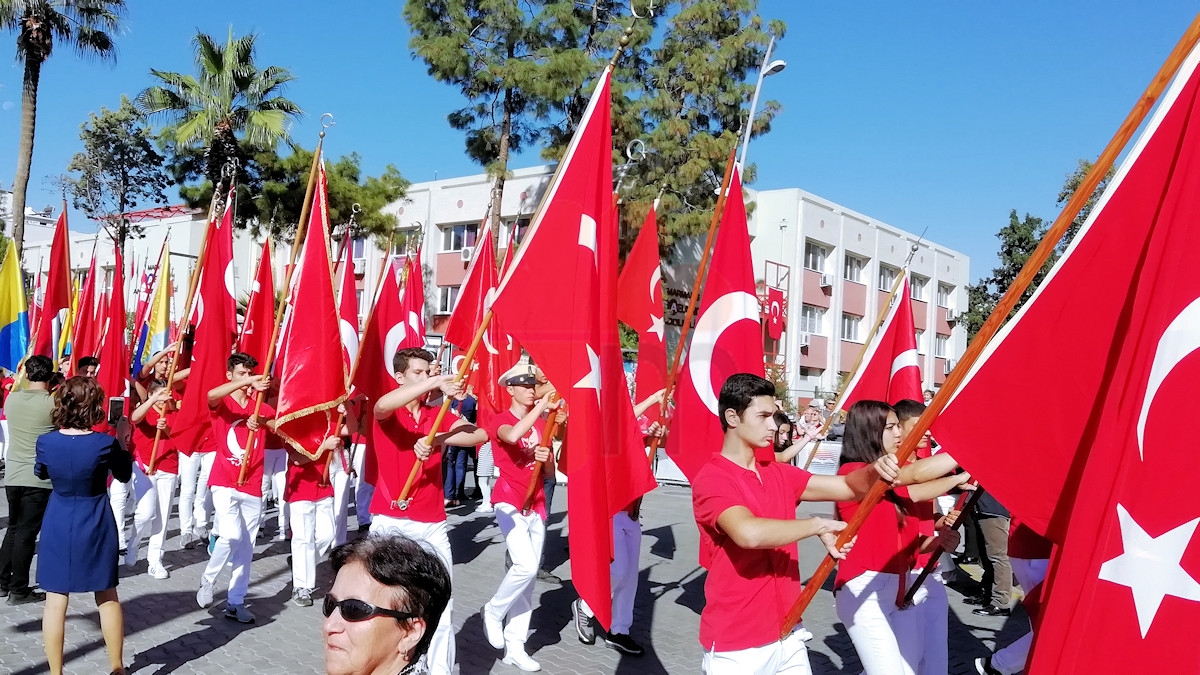 Republic Day Celebration
29th of October, 95. Years of Republic Day Celebration in the center of Marmaris this morning
10.00'da Atatürk Meydanı'nda Marmaris Kaymakamı, beraberinde Garnizon Komutanı ve Belediye Başkanı törene katılanların ve halkın bayramını kutlayacak.
29 Ekim Cumhuriyet Bayramı kutlama etkinlikleri çerçevesinde Marmaris'te yapılacak diğer etkinlikler ise şöyle:
18.30'da Marmaris Gençlik Meydanı'nda "Cumhuriyet" konulu "Su ve Işık Gösterisi"
19.00' da Ketenci Otel' in önünden başlayan Fener Alayı ( Cumhuriyet ve Demokrasi yürüyüşü ) Atatürk Meydanı'nda son bulacak.
19.30'da Atatürk Meydanı'nda Garnizon Komutanlığı Bando Takımı tarafından "Cumhuriyet Konseri" verilecektir.
20.00'de Halk Oyunları gösterisi.
20.30'da Mustafa Kemal Atatürk Kıyafetleri sunumu.
10:00 the Republic Day Celebrations will begin on the Square of Ataturk marked by the participation of the Governor of Marmaris, the Garrison Commander and the Mayor of Marmaris.
The celebrations of the Republic Day on the 29 October in Marmaris will continue with the following events:
18:30 'The Water and Lights' Show dedicated to the Republic theme on the Youth and Sports Square in Marmaris.
19:00 Torchlight Procession starting from the hotel Ketenci ( Republic and Democracy Walk ) to the square of Atatürk.
19:30 'Republic Concert' performed by the Garrison Commander's Band on the square of Atatürk.
20:00 Folk Dancers show.
20:30 Mustafa Kemal Atatürk Clothes Presentation.
10:00 Празднования Дня Республики начнутся на площади Ататюрка с участием губернатора Мармариса, начальника гарнизона и мэра Мармариса.
Празднования Дня Республики 29 октября в г. Мармарис продолжат следующие мероприятия:
18:30 'Водное и лазерное' шоу, посвященное теме республики на площади молодежи и спорта в Мармарисе.
19:00 Факельное шествие от отеля Ketenci ( шествие в честь Республики и Демократии ) до площади Ататюрка.
19:30 Концерт, посвященный Дню Республики в исполнении оркестра гарнизона на площади Ататюрка.
20:00 Шоу фольклерных танцев.
20:30 Показ одежды времен Мустафы Кемаля Ататюрка.
Watch the spectacular all-day-long celebrations of the Republic Day including the annual Torchlight Procession in the evening in honour of the Republic Day in the center of Marmaris.
Празднования дня Республики в Мармарисе продолжались весь день, смотрите видео, включая факельное шествие в честь дня Республики, которое прошло в центре Мармариса.
Show All
Marmaris 29th of October Republic Day Celebration