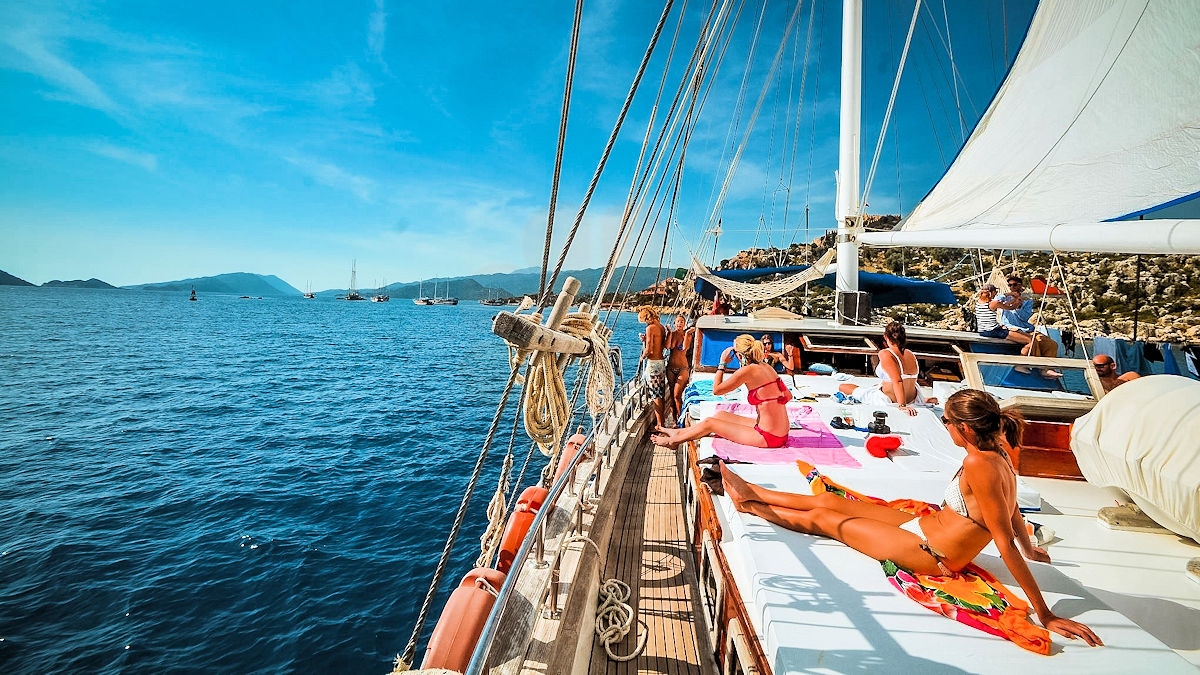 Weekly Cabin Charters
Weekly cabin charters. Cruise your cares away and start making new friends of your fellow voyagers! Cabin charter is ideal for your first sailing experience and singles or small groups not wishing to charter a full yacht. Hire a cabin on the scheduled Blue Cruise and join the rest of the voyagers. Voyagers on these tours may be from a variety of countries, which only adds to the interest and enjoyment. Cabin charters are available on our 3, 4 and 7 days Blue voyage programme. Departure days from Marmaris are every Monday, Tuesday, Friday, Saturday, and Sunday. Departure days from Bodrum are every Tuesday, Thursday, Friday, Saturday and Sunday.
Blue Voyage Weekly Cabin Charter Programmes
Every day, more and more people are discovering the all inclusive pleasures of a cruise vacation. More singles, families, couples, and honeymooners are sailing away on the vacations of their dreams. Here are some reasons why:
The price of your cruise includes all of your meals & crew service. All onboard activities, as well as snorkeling and fishing. Not to mention a relaxing voyage to some of the most exciting and exotic places in the world.
You will find a gulet is a floating dream, with all the things a fine hotel has to offer and more. You will meet new friends and share new memories. You can spend your days and nights as lively or leisurely as you like.
Avoid the worries of having to make dinner or show reservations. No packing and unpacking. A cruise allows you to lie back and be completely pampered. Enjoy fabulous cuisine and one great sight after another. Let your cares float away and your dreams become reality.
For further information please contact info@blueguide.com
Weekly Cabin Charter Programmes
Further information on rates and conditions can be found at: https://cruise.blueguide.com
There is no better way to sail