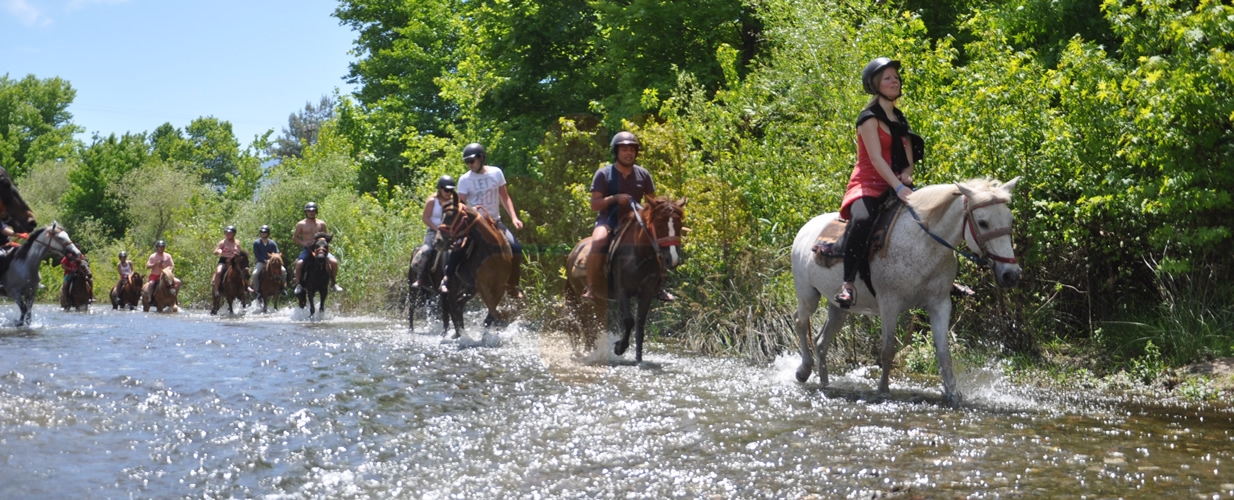 Marmaris Horse Safari
Marmaris Horse Safari, suitable for all ages and skill levels, beginners or experienced, alike.
After getting picked up from your hotel, you will be taken to our horse ranch in Camli, an idyllic village only 15 km away from Marmaris on the way to the Cleopatra Island, in the lushest area of Marmaris National Park.
A comprehensive instruction on the basics of horse riding followed by a familiarisation training at the paddock will ensure the comfort and confidence of all riders.
No experience needed to have a wonderful time, just sit on the saddle and let your horse do the rest. Our placid horses behave their best for their shy riders.
Horse Safari starts off with easy – riding through frankinsence forest and mandarin orchards while the village life around continues undisturbed. After 40 minutes horseback riding we arrive to our riverside camp where both riders and horses enjoy splashing through running waters.
The unique experience of horse riding in the river is bound to be one your Marmaris holiday highlights and will surely contribute a flashy snapshot to your Face Book profile pictures
On the way back to the ranch, the experienced riders can get separated to put their skills to test.
Kids can ride their own horses, provided that a consenting parent / legal guardian joins the tour as well.
Young kids and ultra-timid riders are provided a stableboy free of charge, walking aside and holding the reins all the way.
Infants and young kids, who can not ride their own horses, can join the Horse Safari free of charge by sharing their parents' horses.
Your friends, who do not wish to ride, are also welcome to join the tour as 'Visitor' and stay at the ranch while you are horsing around
An unforgettable half-day fun with the beautiful creatures of the nature.