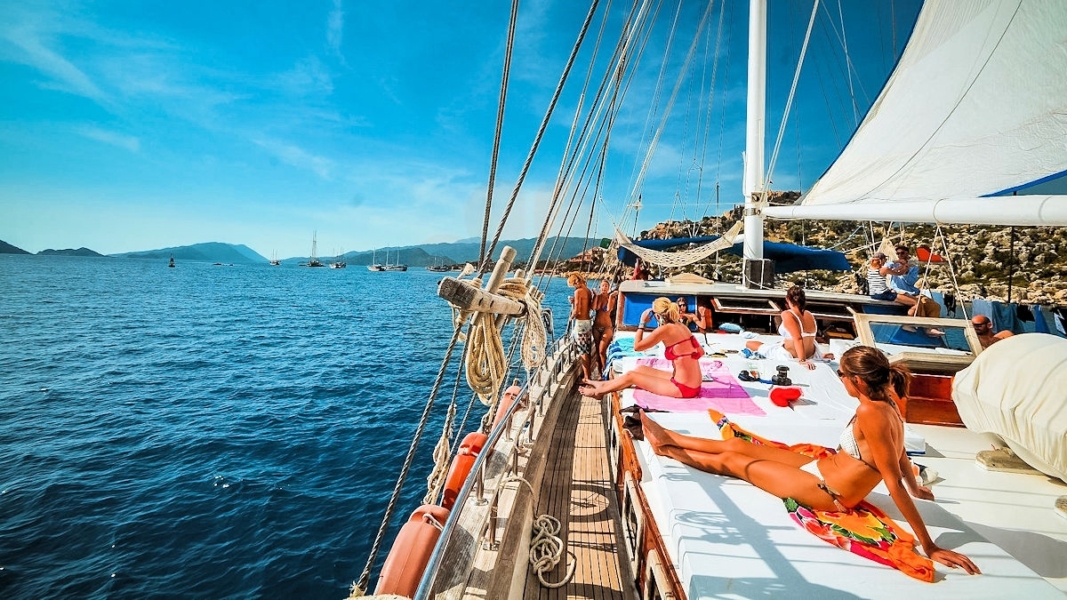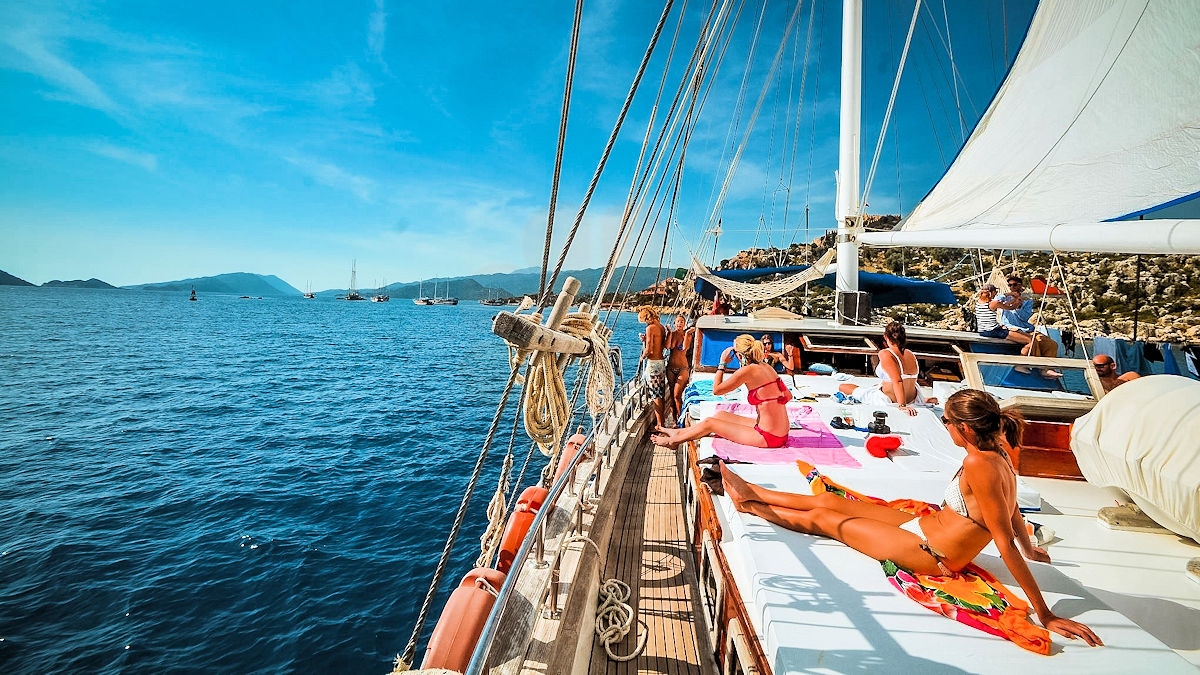 Gulet
Gulet is a traditional Turkish wooden sailing vessel commonly used for leisure cruising along the coastline of Turkey and neighboring countries. These vessels are specifically designed for comfort and relaxation, offering a unique and authentic experience for travelers. Here are some key features and information about gulets:
Design and Construction: Gulets are traditionally built from wood, typically pine or mahogany, using traditional craftsmanship techniques. They feature a distinctive design with a broad beam, a rounded hull, and a wide deck area. The traditional gulets have two masts, and some modern variations may have additional sails or a single mast.
Size and Capacity: Gulets come in various sizes, accommodating different group sizes and preferences. They can range from smaller gulets with a capacity of around 6-8 passengers to larger ones that can accommodate up to 20 or more passengers. The size and capacity of the gulet may influence the level of privacy and exclusivity during the cruise.
Comfortable Accommodations: Gulets are equipped with comfortable cabins, often with en-suite bathrooms. The cabins typically have double or twin beds, storage space, and basic amenities. The interior spaces are designed to provide a cozy and welcoming atmosphere for passengers.
Spacious Decks: The main highlight of a gulet is its spacious deck area. The decks offer ample space for relaxation, sunbathing, and enjoying the stunning coastal views. Gulets usually have cushioned lounging areas, dining tables, and often a shaded area called the "aft deck" where passengers can dine al fresco or socialize.
Facilities and Amenities: Gulets are equipped with various facilities and amenities to enhance passengers' comfort and enjoyment. Common features include a dining area, a fully equipped kitchen or galley, a bar, and sometimes a small library or entertainment system. Some larger gulets may have additional facilities like a jacuzzi, a sauna, or even a mini swimming pool.
Crew and Services: A crew is an integral part of a gulet cruise. The crew usually consists of a captain, a chef, deckhands, and possibly a host/hostess. They take care of navigation, safety, meal preparation, and overall service during the cruise. The crew's expertise and local knowledge enhance the overall experience, and they can assist with activities like snorkeling, kayaking, or fishing.
Chartering a Gulet: Gulets are commonly chartered for private cruises, allowing groups or families to have exclusive use of the vessel. Chartering a gulet provides the flexibility to customize the itinerary, activities, and menu based on your preferences. Alternatively, there are also scheduled cabin cruises available where you can book individual cabins and join a group of fellow travelers.
Gulet cruises offer a unique and relaxing way to explore the beautiful coastline and islands of Turkey. Whether you're seeking a tranquil getaway or an adventurous sailing experience, a gulet cruise provides a memorable journey with a touch of Turkish hospitality and charm.