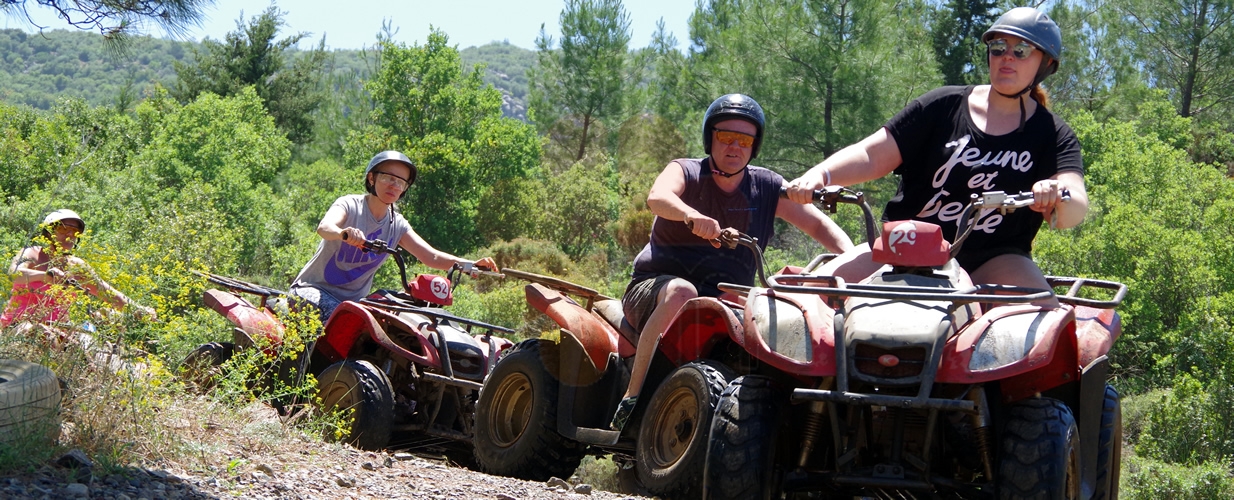 Marmaris Quad Safari
Marmaris Quad Safari is an exciting outdoor adventure activity offered in the resort town of Marmaris, located on the southwestern coast of Turkey. It provides an opportunity for visitors to explore the surrounding countryside and rugged terrains on quad bikes or all-terrain vehicles (ATVs).
Quad safaris typically begin with a briefing and safety instructions from experienced guides who provide necessary equipment, such as helmets and goggles. After the briefing, participants are given a chance to practice riding the quad bikes and familiarize themselves with the controls.
Once everyone is comfortable, the quad safari sets off on a thrilling off-road journey through various terrains, including dirt tracks, forests, hills, and muddy paths. The tours are designed to showcase the natural beauty of the region while providing an adrenaline-pumping experience.
During the quad safari, you can expect to encounter scenic landscapes, picturesque villages, and panoramic viewpoints. The guides often make stops at strategic locations, allowing participants to take photos, rest, and appreciate the surroundings. Some tours may include visits to nearby attractions or swimming stops at secluded spots, depending on the specific itinerary.
The duration of the quad safari can vary, typically ranging from a couple of hours to half a day, depending on the chosen tour package. It's advisable to wear comfortable clothes and closed-toe shoes, as well as bring sunscreen, a hat, and a bottle of water for hydration.
Marmaris Quad Safari is a popular activity among adventure enthusiasts, families, and groups of friends looking for an exciting outdoor experience while enjoying the natural beauty of the region. It's important to follow the instructions and guidelines provided by the tour operators to ensure a safe and enjoyable adventure.
A half-day activity full of pure adrenalin and fun!