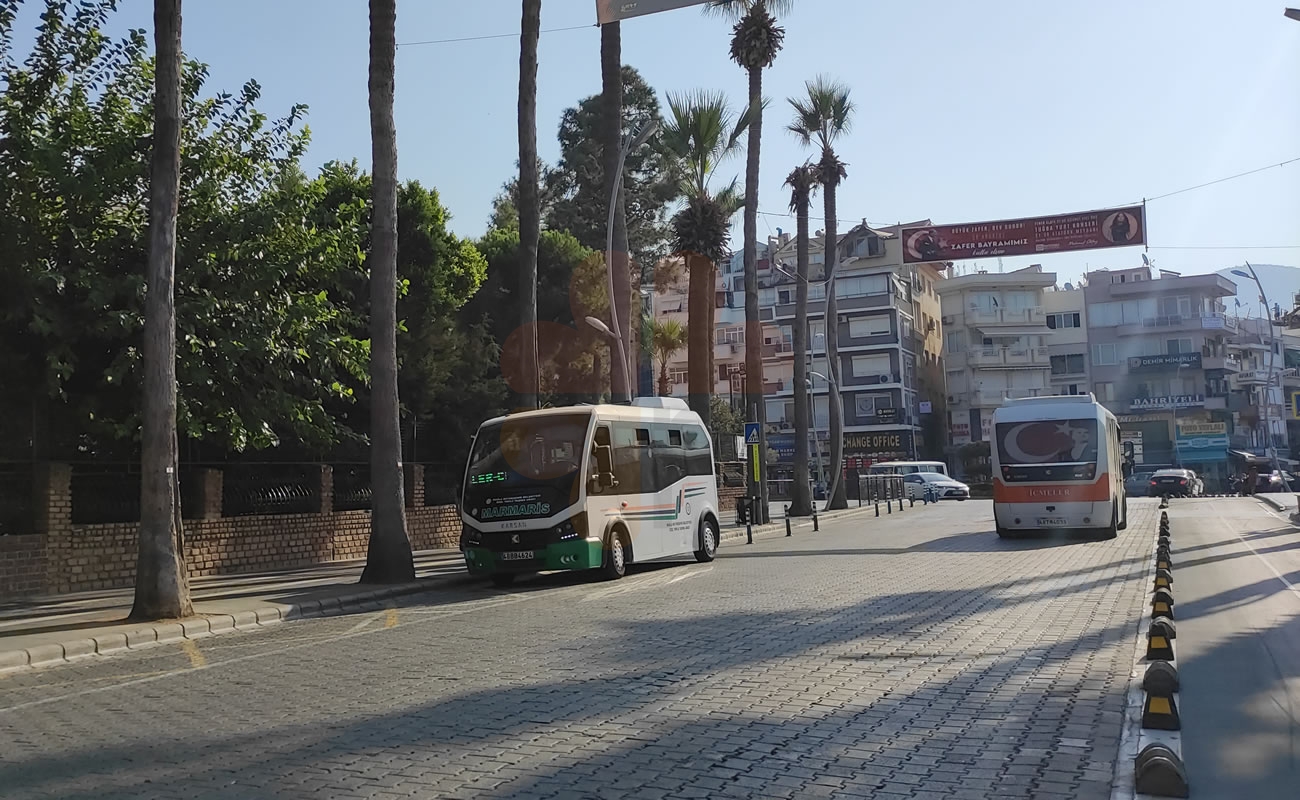 Local Transportation in Marmaris
Local Transportation in Marmaris called 'Dolmus' ( translated as "stuffed" ) minibus runs to the center of every resort in Turkey.
The dolmuses in Marmaris are colour-coded:
Marmaris – Siteler intra-town minibuses are green
Marmaris – Icmeler minibuses are orange
Marmaris – Beldibi minibuses are bordeaux
Marmaris – Armutalan minibuses are blue
Marmaris – Yalanci bay minibuses are pink
There are bus stops along the route, as of 2002 the minibuses should stop only at these assigned stops. Yet most minibus drivers follow the old system, which is get on anywhere and get off anywhere: all you do is flag down a dolmus as you see it approaching. If it is stuffed, you will have to wait for the next one to come along. The fare for the journey is written on a sign above the driver and you pay as you board the minibus.
To travel further a field, to the bay of Turunc, Hisaronu, Gokova or Datca, you will need to go the Marmaris Bus Station on the outskirts of town or hire a car. For covering greater distances, there is a variety of bus lines and companies to choose from.
Taxis are recognized by their yellow colour. The fare shown on the meter reads according to the distance travelled. Yet it is better to take a dolmus – taxis could be expensive in resorts!
Local Transportation Prices in Marmaris
| Description | Type | Distance | TL | GBP | EURO | USD | RUB | DKK | SEK | NOK |
| --- | --- | --- | --- | --- | --- | --- | --- | --- | --- | --- |
| Marmaris - Siteler | Minibus | 2 km. | 20.00 TL | 0.60 GBP | 0.70 EUR | 0.73 USD | 72.76 RUB | 5.20 DKK | 8.10 SEK | 7.95 NOK |
| Marmaris - Armutalan | Minibus | 6 km. | 15.00 TL | 0.45 GBP | 0.52 EUR | 0.55 USD | 54.57 RUB | 3.90 DKK | 6.08 SEK | 5.96 NOK |
| Marmaris - Icmeler | Minibus | 10 km. | 20.00 TL | 0.60 GBP | 0.70 EUR | 0.73 USD | 72.76 RUB | 5.20 DKK | 8.10 SEK | 7.95 NOK |
| Marmaris - Beldibi | Minibus | 5 km. | 15.00 TL | 0.45 GBP | 0.52 EUR | 0.55 USD | 54.57 RUB | 3.90 DKK | 6.08 SEK | 5.96 NOK |
| Marmaris - Yalancibogaz | Minibus | 12 km. | 21.00 TL | 0.63 GBP | 0.73 EUR | 0.77 USD | 76.40 RUB | 5.46 DKK | 8.51 SEK | 8.35 NOK |
| Marmaris - Turunc | Minibus | 22 km. | 28.00 TL | 0.85 GBP | 0.97 EUR | 1.02 USD | 101.87 RUB | 7.28 DKK | 11.34 SEK | 11.13 NOK |
| Marmaris - Hisaronu | Minibus | 30 km. | 30.00 TL | 0.91 GBP | 1.04 EUR | 1.09 USD | 109.15 RUB | 7.80 DKK | 12.15 SEK | 11.92 NOK |
| Marmaris - Orhaniye | Minibus | 20 km. | 33.00 TL | 1.00 GBP | 1.15 EUR | 1.20 USD | 120.06 RUB | 8.58 DKK | 13.37 SEK | 13.12 NOK |
| Marmaris - Selimiye | Minibus | 50 km. | 48.00 TL | 1.45 GBP | 1.67 EUR | 1.75 USD | 174.63 RUB | 12.47 DKK | 19.44 SEK | 19.08 NOK |
| Marmaris - Bozburun | Minibus | 60 km. | 56.00 TL | 1.69 GBP | 1.95 EUR | 2.04 USD | 203.74 RUB | 14.55 DKK | 22.68 SEK | 22.26 NOK |
| Marmaris - Sogut | Minibus | 50 km. | 56.00 TL | 1.69 GBP | 1.95 EUR | 2.04 USD | 203.74 RUB | 14.55 DKK | 22.68 SEK | 22.26 NOK |
| Marmaris - Camli | Minibus | 20 km. | 21.00 TL | 0.63 GBP | 0.73 EUR | 0.77 USD | 76.40 RUB | 5.46 DKK | 8.51 SEK | 8.35 NOK |
| Marmaris - Aksaz | Minibus | 17 km. | 21.00 TL | 0.63 GBP | 0.73 EUR | 0.77 USD | 76.40 RUB | 5.46 DKK | 8.51 SEK | 8.35 NOK |
| Marmaris - Aksaz-Kamp | Minibus | 23 km. | 28.00 TL | 0.85 GBP | 0.97 EUR | 1.02 USD | 101.87 RUB | 7.28 DKK | 11.34 SEK | 11.13 NOK |
| Marmaris - Karacasogut | Minibus | 40 km. | 28.00 TL | 0.85 GBP | 0.97 EUR | 1.02 USD | 101.87 RUB | 7.28 DKK | 11.34 SEK | 11.13 NOK |
| Marmaris - Turgut | Minibus | 33 km. | 39.00 TL | 1.18 GBP | 1.36 EUR | 1.42 USD | 141.89 RUB | 10.13 DKK | 15.80 SEK | 15.50 NOK |
| Marmaris - Gokce | Minibus | 24 km. | 28.00 TL | 0.85 GBP | 0.97 EUR | 1.02 USD | 101.87 RUB | 7.28 DKK | 11.34 SEK | 11.13 NOK |
| Marmaris - Incekum | Minibus | 25 km. | 30.00 TL | 0.91 GBP | 1.04 EUR | 1.09 USD | 109.15 RUB | 7.80 DKK | 12.15 SEK | 11.92 NOK |
| Marmaris - Cetibeli | Minibus | 18 km. | 21.00 TL | 0.63 GBP | 0.73 EUR | 0.77 USD | 76.40 RUB | 5.46 DKK | 8.51 SEK | 8.35 NOK |
| Marmaris - Amos | Minibus | 24 km. | 30.00 TL | 0.91 GBP | 1.04 EUR | 1.09 USD | 109.15 RUB | 7.80 DKK | 12.15 SEK | 11.92 NOK |
| Marmaris - Ciftlik | Minibus | 36 km. | 36.00 TL | 1.09 GBP | 1.25 EUR | 1.31 USD | 130.98 RUB | 9.35 DKK | 14.58 SEK | 14.31 NOK |
| Marmaris - Bayir | Minibus | 40 km. | 36.00 TL | 1.09 GBP | 1.25 EUR | 1.31 USD | 130.98 RUB | 9.35 DKK | 14.58 SEK | 14.31 NOK |
| Marmaris - Akyaka Kavsagi | Minibus | 30 km. | 28.00 TL | 0.85 GBP | 0.97 EUR | 1.02 USD | 101.87 RUB | 7.28 DKK | 11.34 SEK | 11.13 NOK |
| Marmaris - Gokova Kavsagi | Minibus | 28 km. | 28.00 TL | 0.85 GBP | 0.97 EUR | 1.02 USD | 101.87 RUB | 7.28 DKK | 11.34 SEK | 11.13 NOK |
| Marmaris - Akcapinar | Minibus | 25 km. | 28.00 TL | 0.85 GBP | 0.97 EUR | 1.02 USD | 101.87 RUB | 7.28 DKK | 11.34 SEK | 11.13 NOK |
| Marmaris - Kumlubuk | Minibus | 25 km. | 30.00 TL | 0.91 GBP | 1.04 EUR | 1.09 USD | 109.15 RUB | 7.80 DKK | 12.15 SEK | 11.92 NOK |
| Marmaris - Taslica | Minibus | 50 km. | 56.00 TL | 1.69 GBP | 1.95 EUR | 2.04 USD | 203.74 RUB | 14.55 DKK | 22.68 SEK | 22.26 NOK |
Last update : 27.07.2023