Post Office Press Release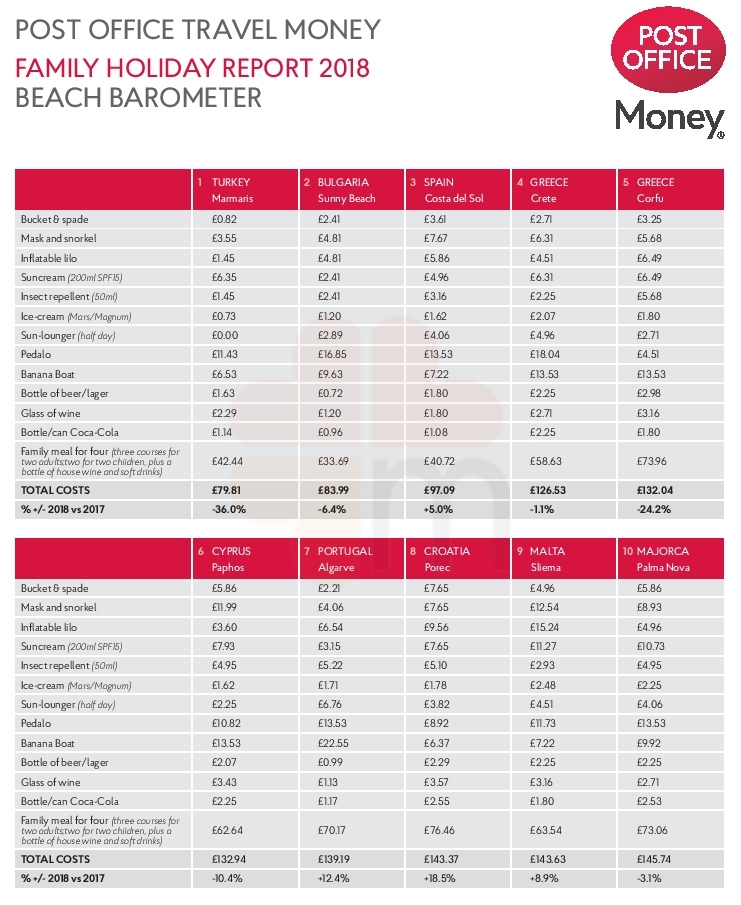 Post Office Press Release. Prices fall for families in top European holiday destinations
Post Office Family Holiday Report reveals price falls in two-thirds of the destinations surveyed ( www.postoffice.co.uk/familyholidays )
• Sterling strides against the lira make Turkey the best value holiday hotspot this year
• Costa del Sol is cheapest Eurozone resort but prices are down 24 per cent in Corfu
• 'Pester power' means kids' beach items set families back an average of £108 – while spending on meals and drinks has risen 14 per cent year-on-year
As schools break up for the summer, research for the 10th Post Office Travel Money Family Holiday Report has revealed that families heading to European hotspots can look forward to seeing their pounds stretch further in two-thirds of the destinations surveyed for the annual Beach Barometer cost comparison1. This found that prices for 13 family items will be up to 36 per cent cheaper than last July, although its consumer research suggests increased spending on meals and drinks and kids' beach items may wipe out some of that benefit.
After comparing costs in 15 popular European resort areas, Post Office researchers found that prices have fallen since last July in Turkey, Bulgaria, Cyprus, Greece, the Balearic Islands, South of France and Italy. A drop in local prices and a small year-on-year rise in the value of sterling against the euro and other European currencies accounts for the increased spending power for UK holidaymakers.
A much bigger slump in the value of the Turkish lira against sterling means Marmaris has emerged as this summer's bargain buy. Prices have fallen 36 per cent to £79.81 for the barometer basket, which includes a family meal, drinks, suncream, insect repellent and beach items ranging from buckets & spades, lilos and ice-creams to pedalo and banana boat rides.
Although Sunny Beach, Bulgaria ( £83.99 ) has lost the top value Beach Barometer spot to Marmaris, prices there have fallen by 6.4 per cent and the Black Sea resort offers by far the cheapest family meal price at £33.69 for two adults and two children. This is less than half the cost in nine other destinations including Majorca, the Algarve and Ibiza.
In the Eurozone the biggest fall is in fifth-placed Corfu ( £132.04 ) where prices are down over 24.2 per cent. Families will also find Paphos ( £132.94 ) in a lot cheaper this year. A 10.4 per cent fall in barometer costs makes the Cypriot resort the sixth cheapest destination. However, Spain's Costa del Sol (£97.09) remains best value of 11 Eurozone resorts surveyed, even though prices have risen by five per cent since last summer. In third place overall in the barometer table, the Costa del Sol is the only top six destination to show a price increase.
Holidaymakers visiting Porec in Croatia ( £143.37 ) and the Algarve ( £139.19 ) will find that prices have risen significantly in both. In Porec, families can expect to pay 18.5 per cent more than last summer, while family costs have risen 12.4 per cent in the Algarve. This makes prices in the Portuguese family favourite 43 per cent higher than in the neighbouring Costa del Sol.
The biggest rise recorded was in Limassol, Cyprus where prices are up by 31 per cent. At £158.97, prices are almost 20 per cent higher than in Paphos. The Post Office found similar price variations in other countries too. In Spain, for example, prices have dropped marginally in Ibiza ( £213.13 ) but they are still 46 per cent higher than in Majorca ( £145.74 ) and over twice as high as in the Costa del Sol.
Most expensive of all for the 13 Beach Barometer items was Sorrento in southern Italy. Despite a 6.7 per cent fall, the total cost of £230.45 was over twice the price in Marmaris, Sunny Beach or the Costa del Sol.
Andrew Brown, spokesperson for Post Office Travel Money, which accounts for one-in-four UK currency transactions said: "The big variations in costs we found between the European resorts mean it really will pay dividends to do some homework before leaving home to get a realistic view of the holiday cash you will need for meals, drinks and other tourist staples. If you haven't already booked and are looking for a late deal, the low resort prices in Turkey and Bulgaria make these countries great bets for wallet-watchers. In the Eurozone Spain is still great value and the low prices we found in Corfu make Greece a good tip too."
Prices may be down in most European resorts but consumer research2 for this year's Family Holiday Report found that overspending may still rock the holiday boat. Seven-in-ten families overspent on their last overseas holiday by an average of 26 per cent ( £170 on an average budget of around £670 ) – but only six per cent plan to increase their budget this summer.
Spending on meals and drinks rose 14 per cent year-on-year to £278 while parents said that they splashed out an average of around £106 on kids' beach items, swimming gear, ice creams and water activities like pedalo and banana boat rides3.
ITEM Average Overseas Spend:
1. Eating Out £164.74
2. Drinks £113.29
3. Sightseeing £84.96
4. Water or theme park £68.31
5. Entertainment £41.24
6. Kids' Ice Cream £39.44
7. Pedalo and banana boat rides £32.94
8. Kids' beach items e.g. bucket & spade £27.44
9. Kids' swimming goggles, snorkels £20.57
10. Sun Lounger £18.27
Andrew Brown added: "Overspending seems to be a growing trend and that is why it is so important to set a realistic budget and try to stick to it. Take enough currency with you to avoid getting stung by poor airport bureau rates or ATM charges abroad. One way to check spending while abroad is to load money onto a prepaid card, like the Post Office Travel Money Card, as this will not incur the transaction charges that can add to overspending."
The Post Office is the UK's leading provider of foreign currency, offering euro on demand at over 10,000 branches. Euros can also be ordered online at postoffice.co.uk for same day 'click and collect' at almost 3,000 branches as well as for home delivery or next day collection at any of the 11,600 Post Office branches. Bulgarian lev, Croatian kuna and Turkish lira are among 30 leading currencies available without pre-ordering at 1,600 larger Post Office Branches and up to 80 currencies can be pre-ordered at over 11,600 branches or online at postoffice.co.uk/travel for next day branch or home delivery.
Notes to Editors:
¹ Post Office Family Holiday Beach Barometer 2018: Prices were supplied by National and Regional Tourist Offices of participating countries, except Turkey ( https://www.marmarisinfo.com ), Bulgaria ( Balkan Holidays ) and Majorca ( online research/Travelup ). A full breakdown of barometer costs can be found in the tables attached. All pricing quoted was also subject to online cross-checks. Prices in the release are rounded up or down to the nearest pound.
2 Post Office research by Populus ( 31 March-2 April 2018 ) among 2,081 UK adults found that only six per cent of families ( 560 ) will increase their holiday budget to make up for rising prices and possible falls in the value of sterling.
3 88 per cent of parents questioned in the consumer research spent an average of £164.74 on eating out; 86 per cent spent an average of £113.29 on drinks, 83 per cent spent £34.71 on ice-creams, 43 per cent spent £32.77 on water rides, 58 per cent spent £27.44 on kids' beach items and 49 per cent spent £20.57 on kids' swimming goggles and snorkelling gear.