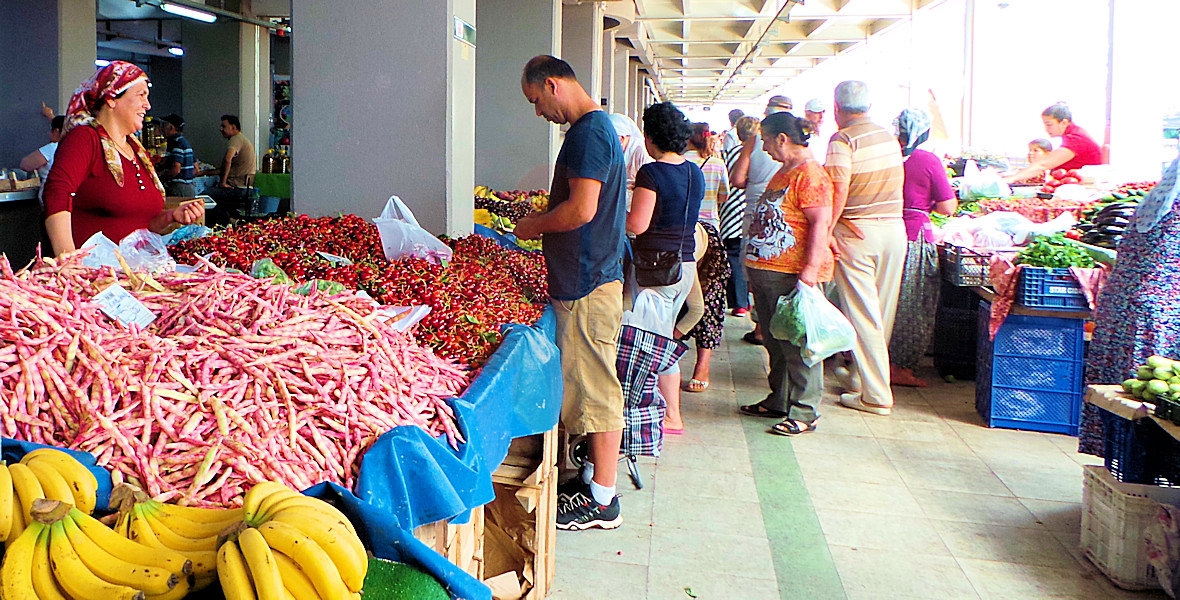 Marmaris Local Markets
Carsi Market in Marmaris, Sunday Market in Beldibi, Wednesday Market in Icmeler, Thursday Market in Marmaris
Carsi Market in Marmaris
Carsi Market in Marmaris. Nestled in the heart of the resort, in the shadow of the Ottoman Castle, the Old Carsi Market offers the perfect antidote to out-of-town shopping malls. The shops in the old covered market are the place to look for something original, of good quality and value for money. Sundays are busiest, with over 200 shops operating, including 1 TL shops, brand name shops, leather, carpet, souvenir and jewellers shops and markets. On weekdays between 11:00 and 16:00 the markets' varied shops are quieter, except at lunchtime, when the choice of eating places attracts the young crowd on the waterfront. Carsi Market is also good for some sightseeing, as you could walk up to the Ottoman Castle to see a small museum and enjoy the view of Marmaris bay, visit an old mosque in the center of the carsi, stay around the drinking fountain located in front of the mosque. These authentic places will help you experience the unique atmosphere and pace of the local life.
Sunday Market in Beldibi
Sunday Market in Beldibi. Nestled between the mountainous crevices of Beldibi area villagers living in Beldibi or nearby lead a simple life dependent on agriculture and livestock. The market in Beldibi is famous for its rich produce, including potatoes, onions, fresh herbs, tomatoes, cucumbers, green peppers, chilli peppers, seeds, plants. Some household items are available at prices cheaper than shopping centers. Some clothes from T-shirts to accessories are sold too, but offer less clothing options than the Market in Marmaris on Thursdays. This is a perfect place to spend your Sunday afternoon in a local bazar setting.
Wednesday Market in Icmeler
Wednesday Market in Icmeler. Set by the road to Turunc, just before you begin climbing up the mountains, this market is perhaps the smallest of the three markets, described here. Yet no matter of its size it does set the mood for shopping, looking for souvenirs, simple buys and bargains available only in Turkey. Take your camera to picture the colourful abundance of fresh vegetables and fruit, clothes and household items.
Thursday Market in Marmaris ( the popular Village Market, known before as the Friday Market )
Thursday Market in Marmaris. Marmaris Village Market sells fruit, vegetables, fabrics and some clothes – for men, women and children, from street-cred club wear to fake designer goods and last year's must-haves. Some of its specialties are sports wear, linen, tablecloths and there's household goods, too. The market is held in and around G. Mustafa Muglali Caddesi and is open Thursdays 08:00-18:00 and the best time to visit is early morning or late afternoon. Unfortunately there is no longer a stall for the local animal shelter at any of the markets. Yet the money is needed to be raised for food and medicine.
Local markets on Marmaris map
---