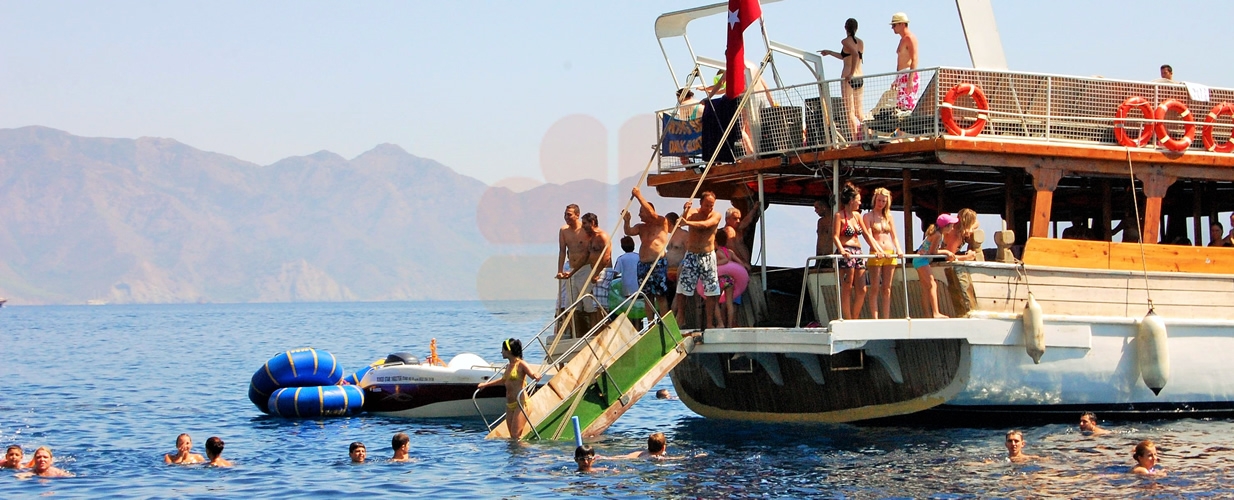 Marmaris All Inclusive Boat Trip
Marmaris all inclusive boat trip, only snow can spoil this day! Lots of fun, lovely scenery, plenty swimming, snorkelling and sun-bathing. Visit the 7 legendary bays* of Marmaris. Three stops for off-the-boat swimming (step into the sea or simply plunge off the deck) and two villages; Kumlubuk* and Turunc* for walking ashore. Fish feeding at Paradise Island* and the eerie Phosphorus Caves* are what we call short click-click breaks of the tour.
B.B.Q Lunch, served aboard, is always taken as a feast by sea air-boosted appetites.
The similar itinerary as Marmaris Lazy Day Boat Tour, yet Marmaris All Inclusive Boat Trips, as the name implies, comes with all drinks you can handle free! We serve a freshly prepared Lunch and UNLIMITED FREE DRINKS: Tea , Coffee, Soft drinks, Children Cocktails ( Non Alcohol ) Juices ( LOCAL ALCOHOL DRINKS ) Efes Beer, Wine
Sun-beds, toilets, masks and a well-stocked bar are all available on our double decked boat.
Treat yourself to this fun-day out and feel like a millionaire.
Please visit Marmaris All Inclusive Boat Trip details on Marmaris Excursions pages.