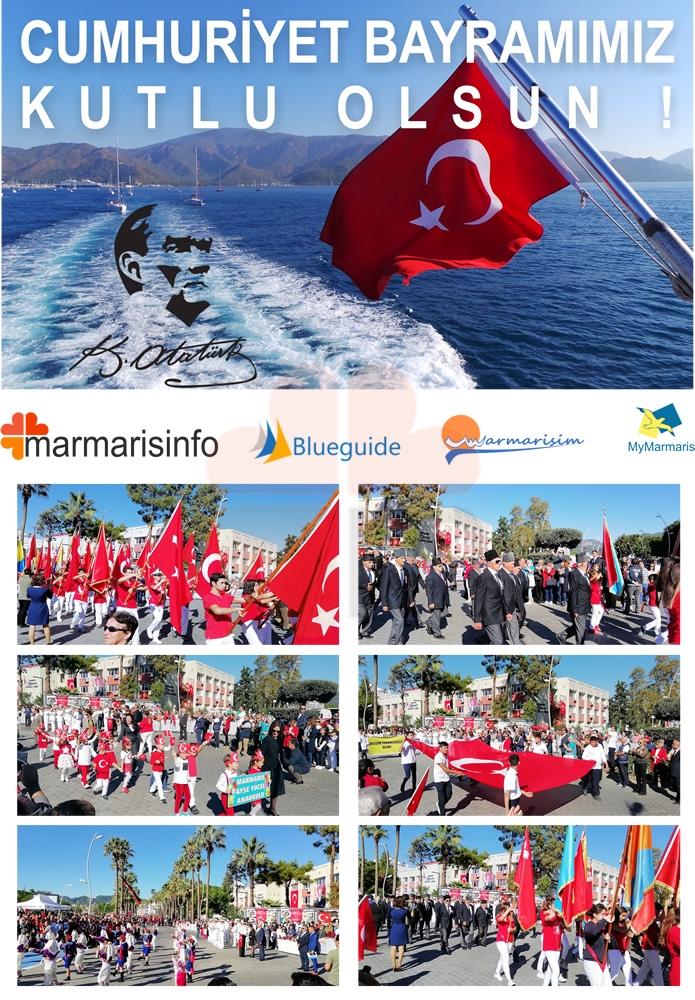 Republic Day in Marmaris, Turkey
When is Republic Day in Turkey?
The Turkish Republic's founder Mustafa Kemal Atatürk proclaimed Republic Day as Turkey's most important holiday on October 29th. Marmaris is celebrating the Republic Day on October 29 by organizing live performances and traditional processions with flags and musical bands.
What is happening in Marmaris today?
October 29th in Marmaris is always full with parades and performances dedicated to the Republic Day in Turkey. Such performances usually consist of theater sketches, poetry readings and traditional Turkish dances. This year the traditional evening parade with flags will take place on the main boulevard of Ataturk. The Parade will begin at 7PM or 19:00 hrs and the starting point is in front of Ketenci hotel all the way down to the main square at the statue of Ataturk.  People of Marmaris will lay wreaths to Atatürk's monuments.
In the evening of October 29 in Marmaris the musical band of Aksaz military base will hold a concert on the main square at Atatürk's monument at 7:30PM or 19:30 hrs to commemorate Republic Day in Marmaris, Turkey. Following the military band the folk dancing will continue the evening programme at 8:00PM or 20:00 hrs and at 8:30PM or 20:30 hrs the popular band Rampapa will take stage on the main square at Atatürk's monument. The processions and concerts will end with fireworks in Marmaris center.
Are the concerts in Marmaris today free?

Yes, all concerts on October 29th the Republic Day in Marmaris are open to public and are free of charge.