'See you next year' – this is the most popular phrase at the moment and people say their goodbyes to local friends in the resorts of Marmaris and Icmeler.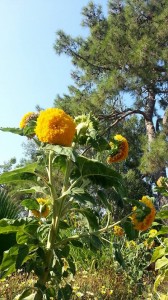 It must be hard to leave Marmaris and Icmeler on a day like this though. 31°C – that's not exactly the kind of temperature you would expect in the last week of October in Marmaris. The sunrise in the morning captured by our cameras and shared via social media and on the newsletter is an amazing sight! The view is different every morning now, as the weather in autumn is changing fast. We recommend a morning walk to anyone who is still around here. We will be out here to take more beautiful photos of the place you return year after year.

The local animal shelter activities are centered about saving a foal that was rescued from a local forest by Jeannie and her volunteer helpers. You can check the latest updates on her facebook pages  https://www.facebook.com/jeannie.thirkill and https://www.facebook.com/pages/Marmaris-Cat-Shelter/279765753933?fref=ts
http://www.marmarisinfo.com/kittycat/
If you have not heard about the shelter and Jeannie but would like to offer help please contact her via facebook or her email jeannie@marmarisinfo.com The summers are always good to the street animals and the shelter, but the winters are hard.