The colours of Marmaris and Icmeler change every autumn, although you can hardly complain about the weather. The days are still like the summer days and the temperatures are around +30C degrees. Apart from the rains that recently hit Marmaris coast and cleared up the air. Marmaris enjoys a lot of sunlight even in autumn, which attracts many people to the beach all day long.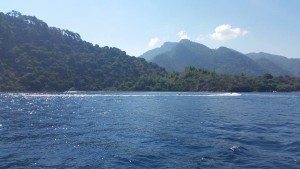 The schools opened last week on the 28th of September. Every morning there is a rush on the streets to local schools, most starting at 08:30AM. The schools opened quite late this year, and this was partly due to the Feast of sacrifice (Kurban Bayram) as well as the slight attempt to boost the tourism sector this year. Locals aren't very optimistic about the tourism at all, and you might have noticed the general mood this year. It is becoming a challenge to keep a place operating, be it a cafe, a bar, a hotel or an agency and this is not only in Marmaris or Icmeler. With years to come this is definitely going to cause major changes but we hope for the best.
There are a lot of holiday makers and Turkish and foreign property owners who come out to enjoy Marmaris every October and to close their homes for the wintertime. Marmaris is lovely in October as the season is winding down, with temperatures allowing you to spend a day on a boat or on the beach and eat outdoors in the evening. The sea is very warm and calm on most of the days there is not a single wave. If you come in October once you will always want to return to Marmaris at this time year after year.