Dear Friends,
Marmaris seems to be missing the April rains that have caught up with the rest of the Mediterranean. Only this morning Marmaris awoke to some short rain. As the first tourists are arriving the weather in Marmaris is partly cloudy with occasional sunshine, which still allows you to enjoy a few hours on the beach or by the pool. The forecast for the Easter weekend, however, is sunny weather all the way.
Next weeks a traditional marathon to prepare for the season will continue, so everyone is busy with painting, cleaning and decorating in anticipation of the season. Just like every year, there are quite a few new shops opening up in Marmaris. When the weather has improved we'll be taking more Marmaris pictures to share with you.
Roses are blooming in Marmaris at this time of year, making every garden and balcony especially nice!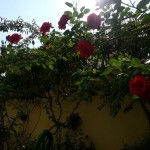 Marmaris Spring Reflections: 20°C + in the daytime, 11/04/2014 afternoon was 13km/h westerly wind, 57% humidity.