Dear Friends,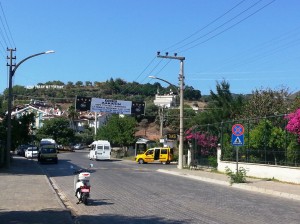 Being a small place Marmaris is struggling with increased traffic in the summer months. The key to your safety whether driving or walking is paying attention and being extremely careful and patient on the roads. Unlike European cities, drivers in Marmaris DO NOT stop before any pedestrian crossings, whether there is a sign or yellow stripes marked across the road. Some crossings have a tiny island in the middle which is supposed to create a safe stop in the middle of the road crossing. Unfortunately you can come across another danger there :  a motorbike trying to use this pedestrian island as a shortcut.  Yet other pedestrian crossings have traffic lights which should make things easier; but you still need to watch for any vehicles using the same traffic lights, as they will not stop for pedestrians, and you will need to stop to give them a way.
In worst scenarios there are some very polite drivers who stop for pedestrians. In such cases a car that stopped for pedestrians could be overtaken by another car coming behind, making it a very dangerous crossing place.
It is common for taxis to go over speed limit in Marmaris, especially after midnight and get away from being fined for ridiculous speed, sometime reaching 100 km/hour in the city center…. Passing on red light is another dangerous practice that both taxi drivers and drivers from big cities like Istanbul and Ankara could do here in Marmaris.
Use of horns is very common to alert other drivers and pedestrians. The safest practice in Marmaris is slow down and be ready to stop for any vehicle coming your way.
Have a safe holiday in Marmaris.
Important Phone Numbers
Ambulance:        112

Police:                  155

Traffic Police:     154

Jandarma:           156