Next weekend looks very promising if you take a trip to Dalyan town, where the first fishing festival 'Eat a Grey Mullet in Dalyan' in Marmaris  region is scheduled on the 18th of February 2017 Saturday. Dalyan is about 80 km from Marmaris, you could take an intercity bus to Dalyan on a day before to be on time for the festival or book a transfer at only 66 euro for up to three passengers with our partner on http://www.transferturkey.com
Dalyan festival will begin at 08:00AM on Dalyan river bank on Maras street. The fishing competition will continue from 08:00 AM to 12:00 AM on the open sea. Followed by the Award Ceremony and two Turkish pop stars concerts: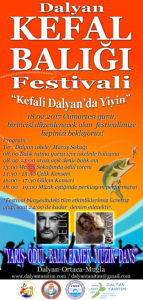 14:30 – 15:30 Celik Concert
16:00 – 17:30 Gulcin Concert
The events and concerts at the festival are free of charge.